Balinese beaches are known to be some of the best in the world, whether it comes down to just soaking up the rays and relaxing or riding the waves.
When traveling on vacation, there is no shortage of best luxury beach resorts in Bali- they will provide great views, amenities, and enough sandy beach for you and all of your fam. Whether these luxury beach resorts have 50 or 200 rooms, they will offer only the finest Balinese beach experience there is, no expense spared.
Amankila
Amankila is a luxury beach resort in Bali alongside Bali's tropical hillsides. It is set on a cliff that leads down to a picturesque beach. This makes Amankila an ideal choice for swimming and snorkeling.

Some of Amankila's amenities include dining, spa, and island adventures. There are multiple world-class restaurants under one roof serving a whole range of local and international cuisine.
Belmond Jimbaran Puri
This resort in Bali is only 20 minutes from the airport. Set on a sheltered bay with gentle, hued waters. Belmond is the ideal choice for a picturesque of Bali's ocean.

The resort's 64 accommodations are exceedingly luxurious in traditional Balinese style, with marble floors and gleaming teakwood furniture. There are even private pools.
Ombak Luwung Beachfront Estate
Ombak Luwung Beachfront Estate is one of the most expensive resorts in Bali. It has a mesmerizing ancient look to it that can leave anyone speechless.
It is just a short 2 min walk from the beach. And you have access to a large pool and an outdoor barbecue. Relax on the terrace, find rest in any of the 5 bedrooms, unwind in the living room or snack in the well-equipped kitchen.
The Samaya Bali
Samaya is an affordable luxury resort in Bali beach which offers rooms equipped with all the contemporary amenities such as free Wi-Fi and air conditioning. There are also massage and beauty therapies at the resort's exclusive spa and wellness center.
The sun-loungers at the garden located at the premises of the resort is just the perfect place for vacationers to lie down and relax.
Fairmont Sanur Beach Bali
Fairmont Sanur Beach Bali is a luxury beach resort in Bali themed around Balinese living. A Hindu shrine sits in the center of a stone-lined lagoon that runs the length of the property. Guest suites are breathtakingly decorated in Balinese teak wood and silk brocade, with sprawling, spa-like bathrooms.
Also, be sure to check out their in house mini forest.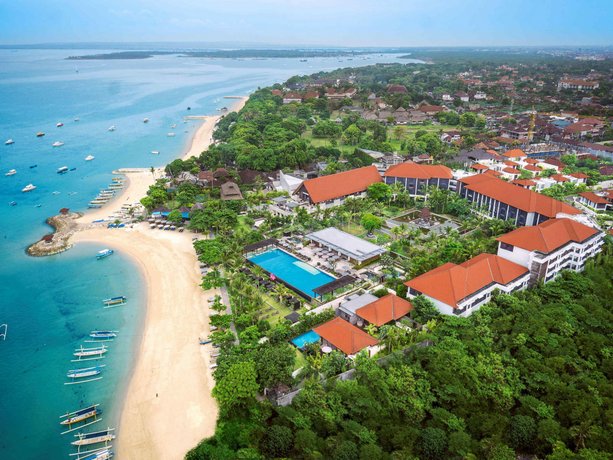 Need a photographer for your next trip to Bali? Hit us up and we'll get you sorted.