You've heard of the breathtaking views. You're familiar with the taste of the delicacies and all the glorious ways its cooked. And you've longed for their endless selection of beverages.

Bali is a great place for fine dining as there is a healthy infusion of spices and condiments from all around the world. That being said, it also just so happens to be a budget travellers paradise. Here are some of the local dishes you should consider giving a try if you're low on budget and high on appetite.
Bubur ayam
Bubur ayam is a Chinese Indonesian chicken congee. It is rice congee with shredded chicken meat served with some condiments. Although not as spicy as a lot of other cheap eats in Bali. Its a very healthy meal that's light on your calorie count and your wallet. Almost every small restaurant serves their own version of this cheap eat in Bali.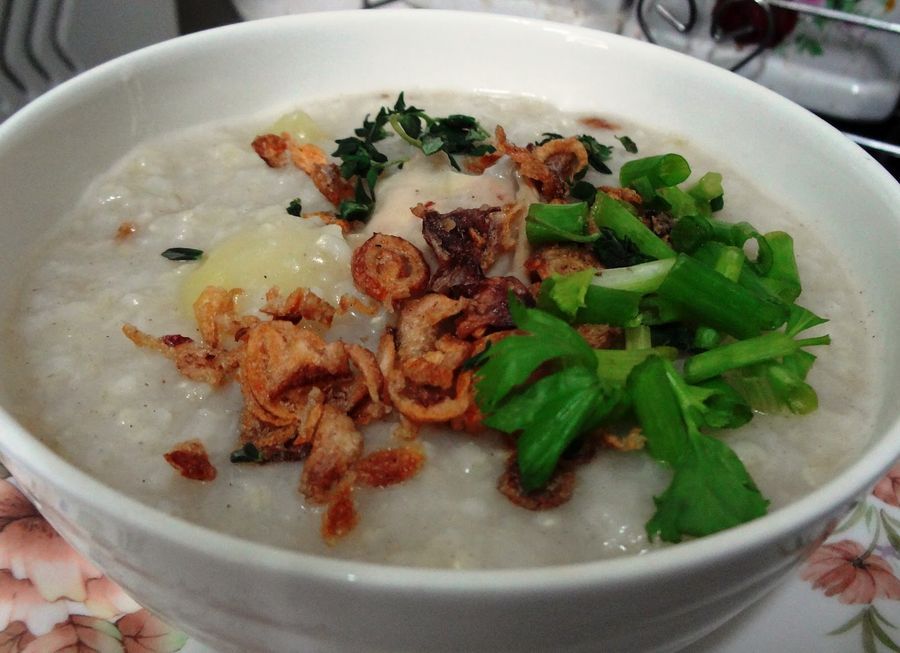 Satay
Satay, or sate in Indonesian, are basically grilled slices of chicken, goat, beef, or pork skewered on sticks. If you're looking for cheap street food in Bali then this is as street as it gets. Additional sauce is optional, as the Satay itself already has a delicious combination of spicy, savory, and sweet layers.
Some restaurants even serve vegan versions of this cheap eat in Bali.
Babi guling
Babi guling is an all-time favourite, consisting of spit-roast pig stuffed with rich traditional spices and vegetable mixes such as cassava leaves, slowly rolled over a coal fire. Prices can vary widely depending on where you choose to it. This budget eat in Bali is available on the streets as well as high end restaurants.
Lawar
Bali cuisine is all about bringing together the best of meats, spices and vegetables. And Lawar is as typical as it gets. This budget eat in Bali is made by mixing chopped meat with green vegetables and grated coconut. Choices of meat can be beef, chicken, pork, duck or sometimes even combinations of these.
Nasi Jinggo
If you enjoy eating like a local. Then this Bali staple will have you hooked. Nasi jinggo is a big part of the Bali locals' daily lives. consisting of rice, vegetables, and a side dish and condiment wrapped together inside a banana leaf, nasi jinggo is an affordable food alternative for locals and tourists alike.

Usually, the side dish options are shredded chicken or egg. This particularly cheap eat in Bali is so widely available that you'll spot sellers selling them off motorcycles.
Need the best photographers in Bali for your next vacation? Why not give Lokaso a try. Hit us up and we'll get you sorted.